Join us for Coffee with a Cop October 4! AISD PD will be hanging out at the Starbucks (11830 Broadway in Pearland) in front of SCHS from 9-10:30 a.m. Coffee with a Cop is designed for the community to get to know those who serve our district. We hope to see you there!

Anxiety may be associated with poor attendance at school, which can lead to a range of adverse outcomes. Take a look at how parents and school professionals can help.
www.alvinisd.net/attendance

We are thrilled to announce that three of our outstanding students have achieved PERFECT scores on their AP exams! 🙌🤩 🌟 Meet the brilliant minds behind this remarkable achievement: 1️⃣ Zachary Escobar - Perfect Score on the Research AP Test 2️⃣ Andrea Diaz - Perfect Score on the Spanish Language and Culture AP Test 3️⃣ Jacob George - Perfect Score on the Computer Science Principals AP Test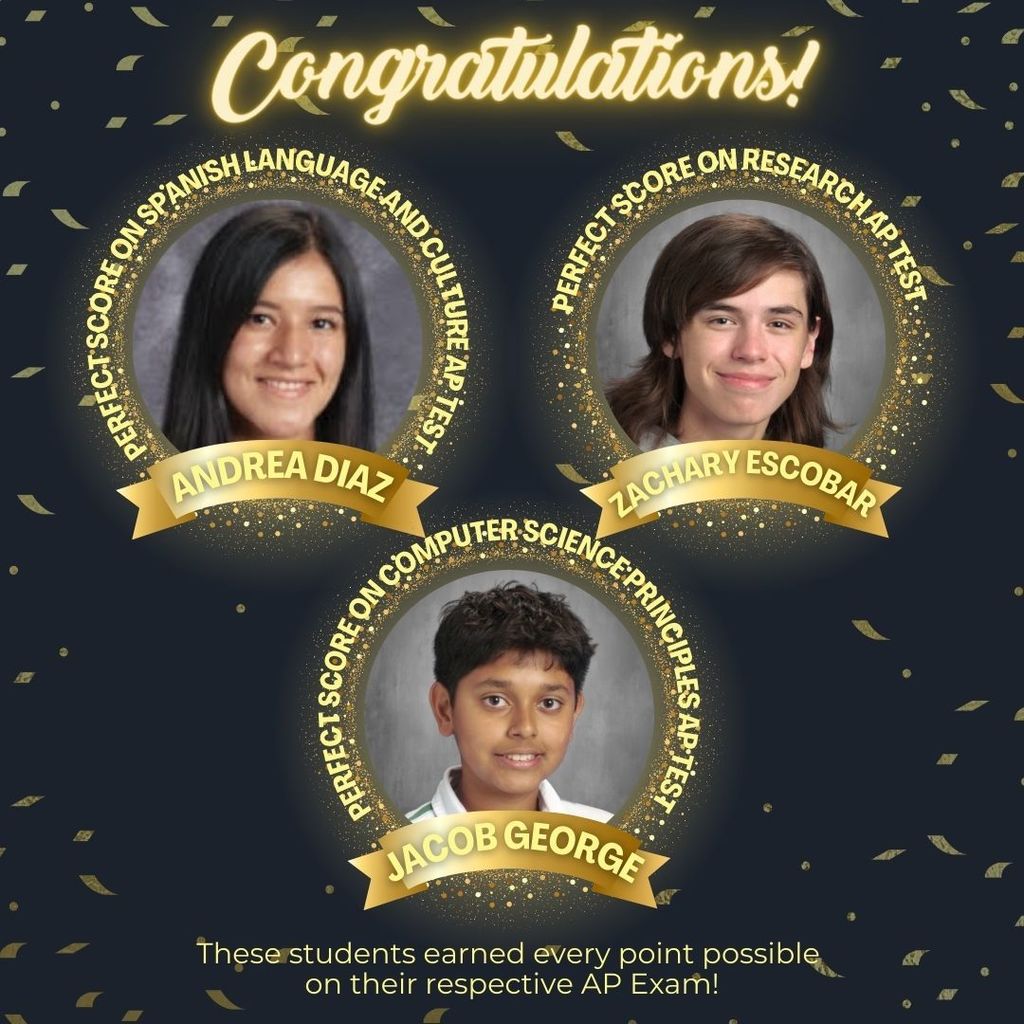 This evening, the Alvin City Council presented Superintendent Nelson with a Proclamation in honor of World Teacher's Day on October 5th! 🍎🌎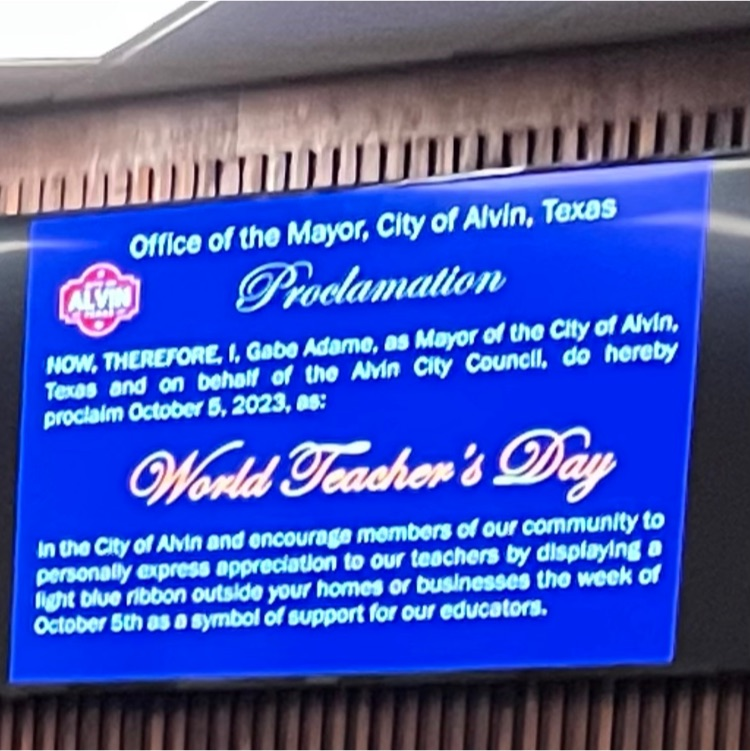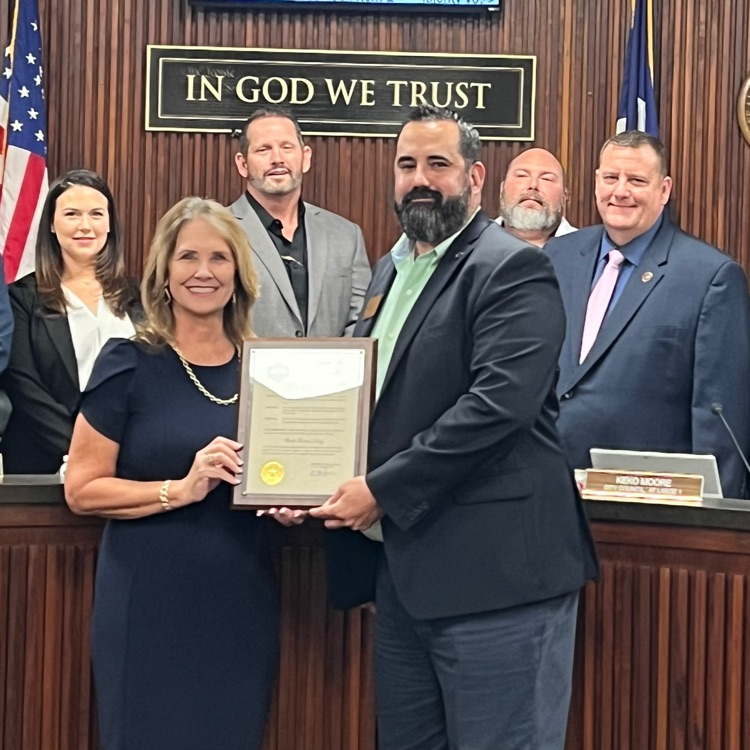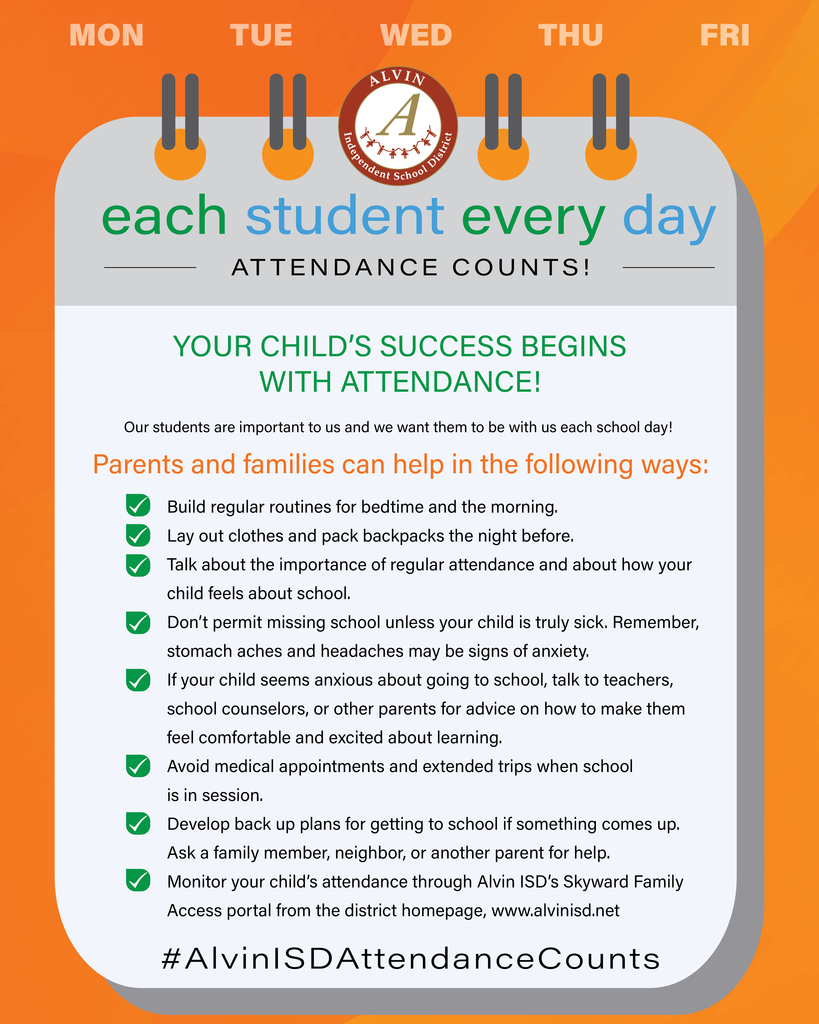 Get ready to be dazzled by the incredible talents of our young stars! Our elementary schools are thrilled to present THREE amazing musicals 🎭🎵 Come out and support our talented students as they shine on stage. It's going to be a month filled with laughter, music, and unforgettable memories! 🎉🤩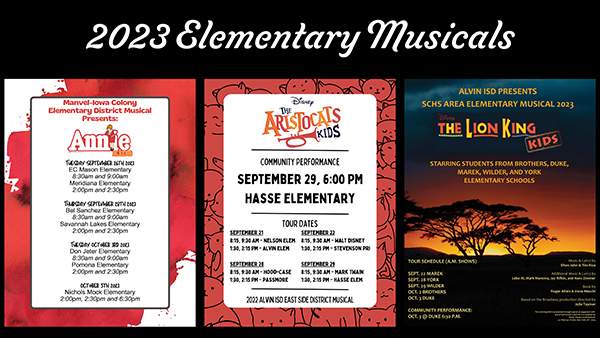 It's National IT Professionals Day! Today, we want to extend our gratitude and appreciation to the incredible IT professionals in Alvin ISD! In a world that increasingly relies on technology, you are the unsung heroes who keep everything running smoothly. From troubleshooting technical issues to ensuring our systems are secure, you work tirelessly behind the scenes to make our lives easier. Let's give a big shoutout to our IT professionals today and every day! 👏👏👏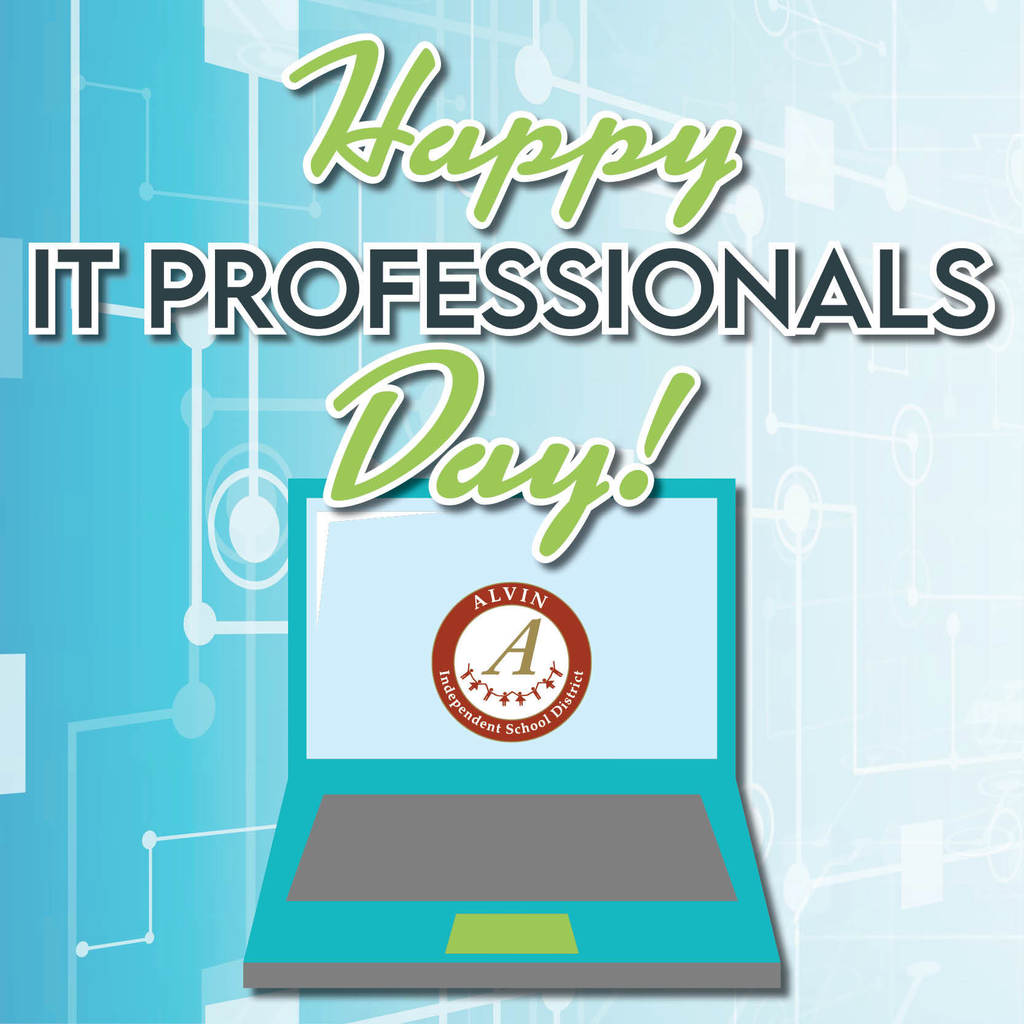 Happy National Hispanic Heritage Month! September 15 through October 15 is Hispanic Heritage Month and we are excited to see the ways our schools learn about and celebrate Hispanic heritage and history!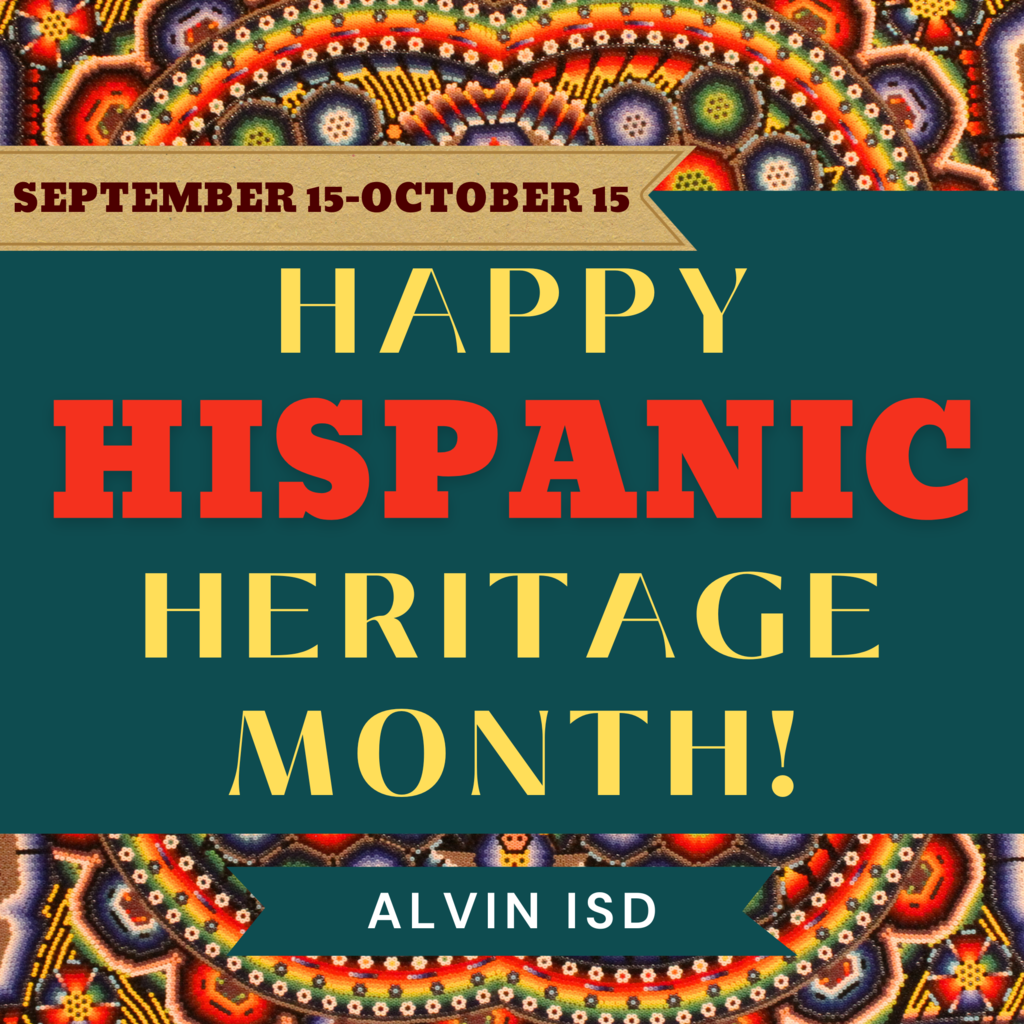 National Merit Scholarship Corporation officials announced the names of more than 16,000 semifinalists in the 69th annual National Merit Scholarship Program. These academically talented high school seniors have an opportunity to continue in the competition for some 7,140 National Merit Scholarships worth nearly $28 million that will be offered next spring. To be considered for a Merit Scholarship award, semifinalists must fulfill several requirements to advance to the finalist level of the competition. About 95 percent of the semifinalists are expected to attain finalist standing, and approximately half of the finalists will win a National Merit Scholarship. Receiving semifinalist status in Alvin ISD are: • Zachary Escobar - Shadow Creek High School • Kalyn Luong - Shadow Creek High School • Jacob Mathew - Shadow Creek High School • Nikhil Varma - Shadow Creek High School • Prisha Verma - Shadow Creek High School

Did you know that Alvin ISD students earned a whopping 978 Industry Based Certifications in the 2022-2023 school year through our CTE programs? These certifications don't just test their classroom knowledge, they help prepare them for their futures!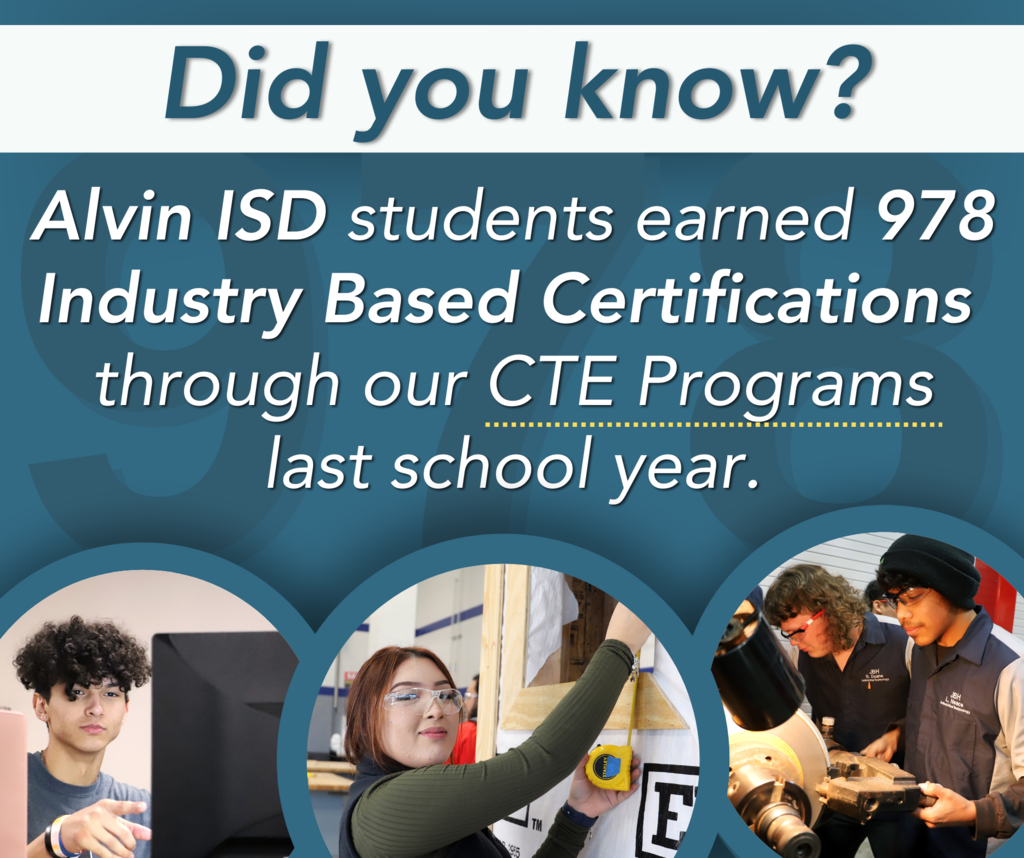 Attendance in elementary school, particularly the early years, is very important because children are building the foundational knowledge for reading and math which will help them succeed throughout all of their years in school. To learn more, visit
www.alvinisd.net/attendance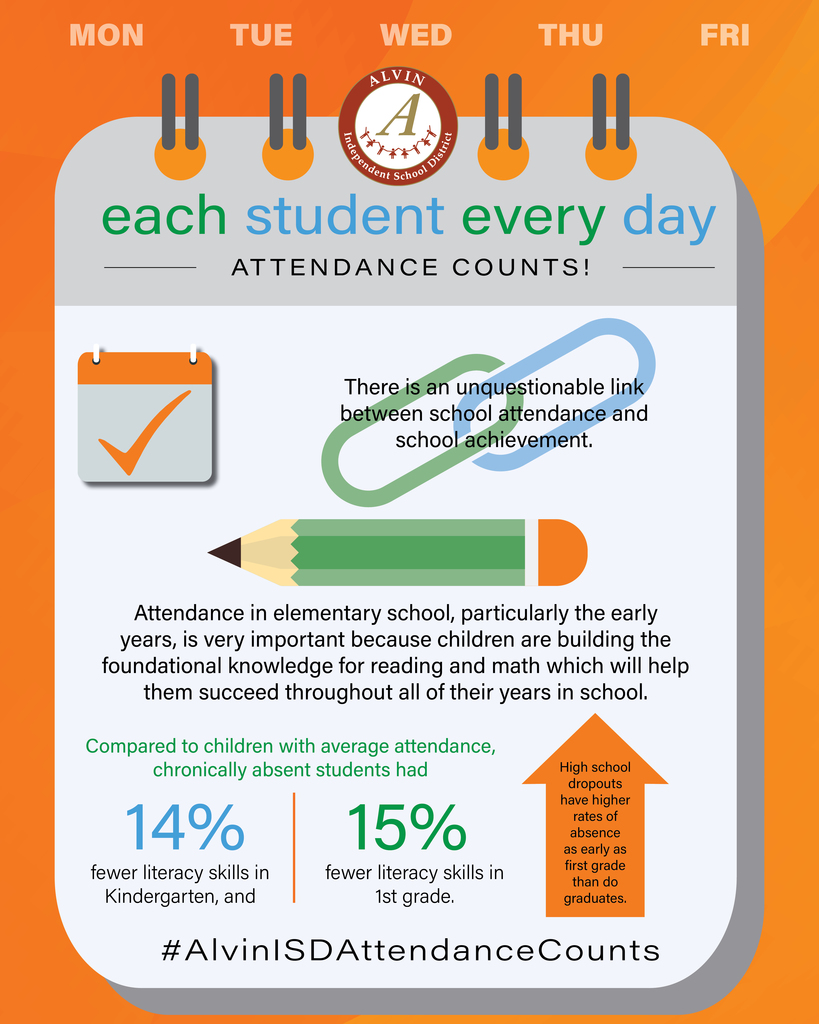 Please join us at 2 p.m. on Sunday, September 17 as we dedicate Nichols Mock Elementary and celebrate the legacies of Delbra Orum Nichols and Wilma Fountain Mock!

We will never forget. 9.11.01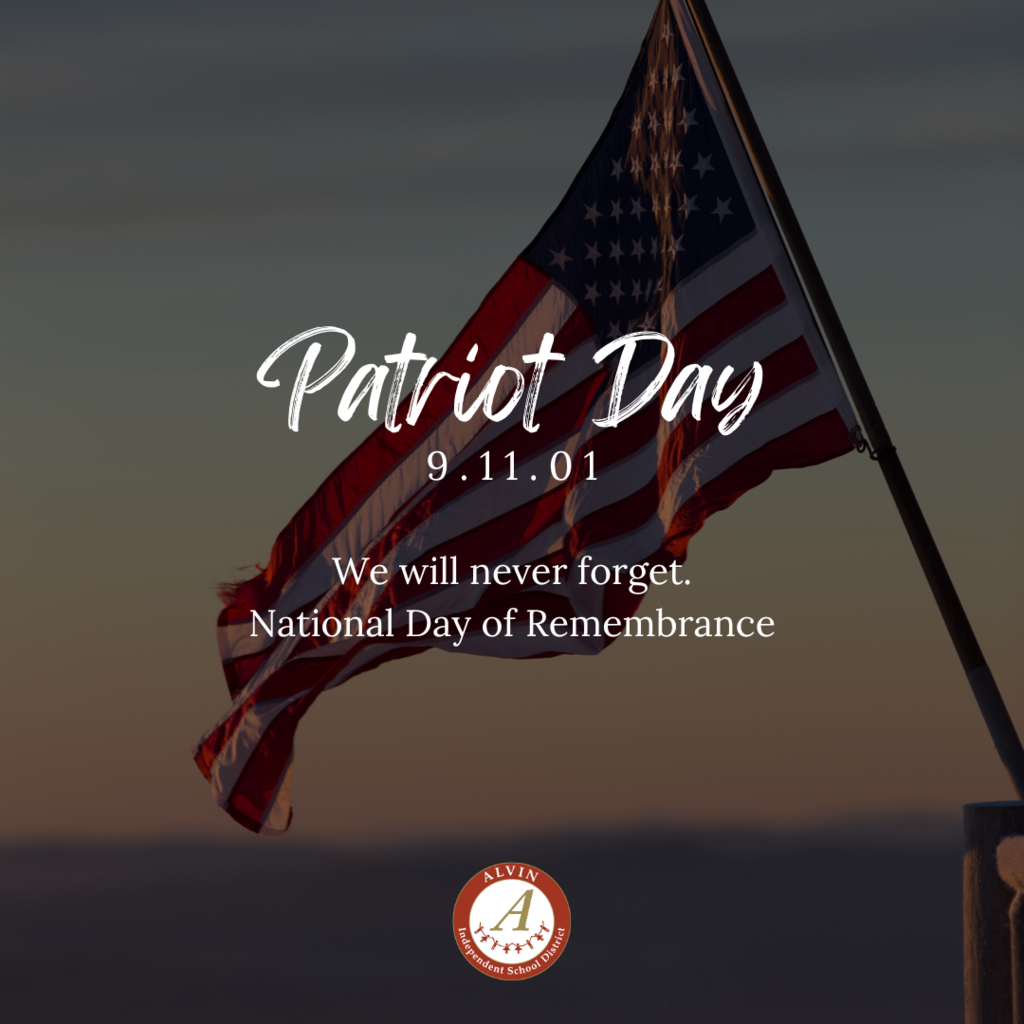 Today, we celebrate the incredible impact grandparents have on our students' lives. Their love, wisdom, and stories shape us in beautiful ways. 💖 Share your favorite grandparent memory and spread the love!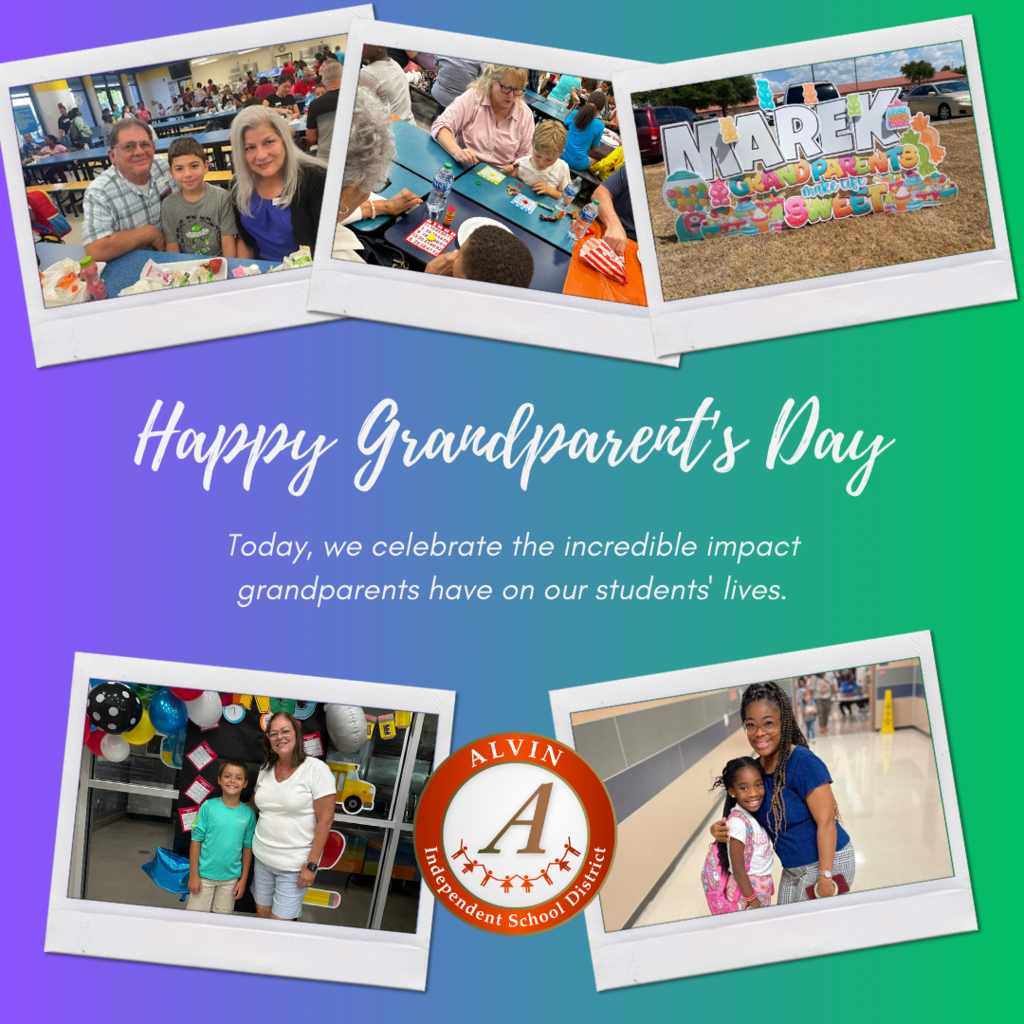 𝐂𝐥𝐚𝐬𝐞𝐬 𝐝𝐞 𝐈𝐧𝐠𝐥𝐞𝐬 𝐩𝐚𝐫𝐚 𝐏𝐚𝐝𝐫𝐞𝐬 - ¡𝐑𝐞𝐠𝐢𝐬𝐭𝐫𝐞𝐬𝐞 𝐇𝐨𝐲! We will be hosting English Classes for parents in two locations this year. Each location will have beginner and advanced classes! Register:
www.alvinisd.net/EnglishClassForm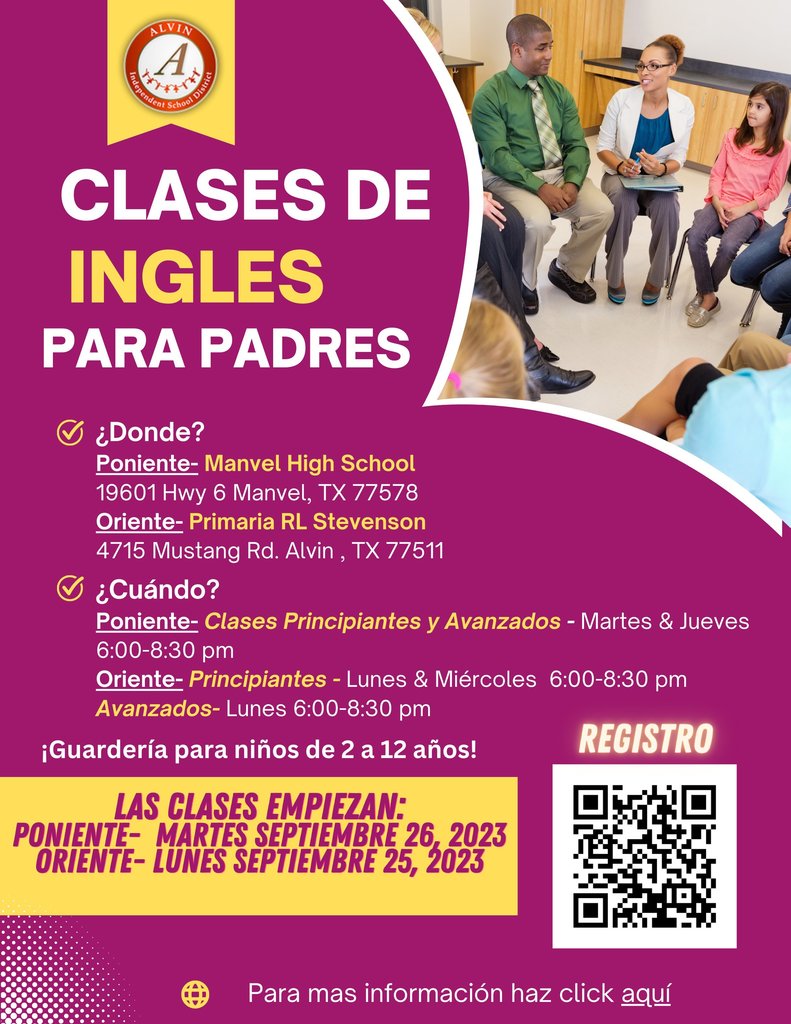 Why is attendance important? Every day a student is absent is a lost opportunity to learn. Too many absences can not only affect achievement for the absent student, but also can disrupt learning for the entire class. Read more here:
www.alvinisd.net/attendance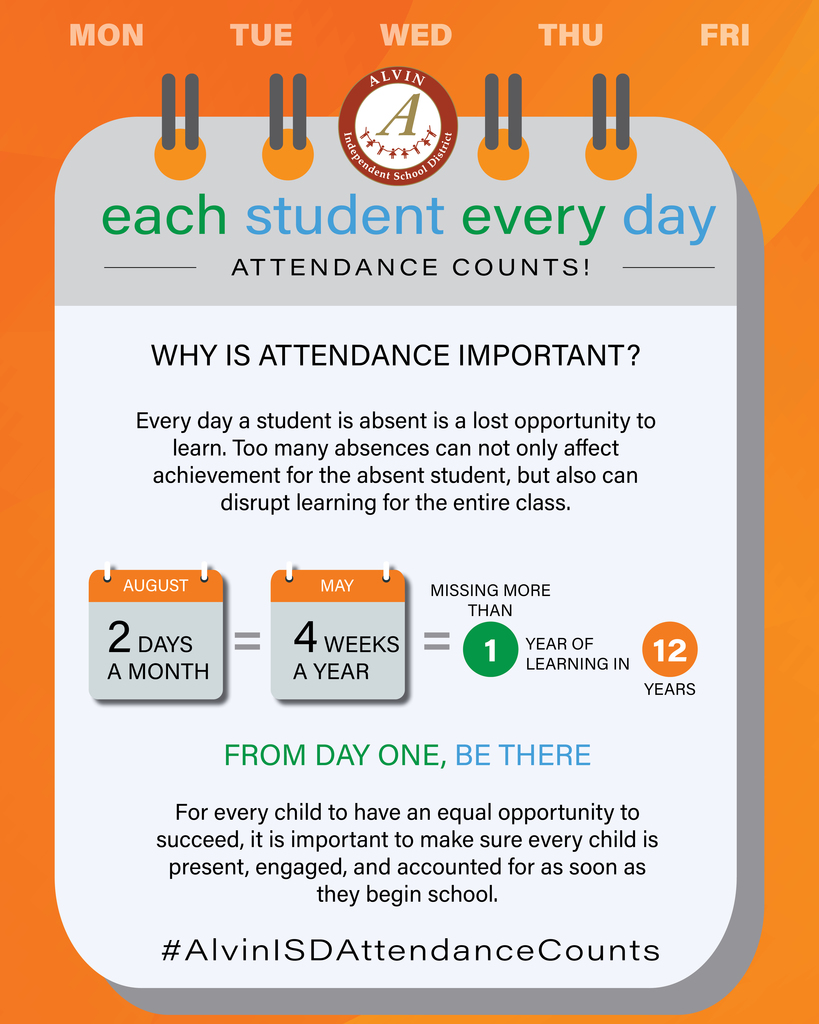 📢 Exciting News! Join us at JB Hensler College and Career Academy's Open House on September 19th! 🏫✨ 🗓️ Save the Date: September 19, 2023 🕒 Time: 5:00 PM - 7:00 PM 📍 Location: JB Hensler College and Career Academy, 7380 Lewis Lane, Manvel, TX Discover endless possibilities for your future at JBH! 🎓 Tour our state of the art lab spaces 👩‍🔬 Meet our dedicated faculty 🤝 Connect with fellow students 🎉 Learn about the 18 career and technical education programs of study we offer Whether you're a high school student or a parent looking for the best education opportunities, this is the event for you! Don't miss out on this chance to learn about the exciting educational journey that awaits you at JB Hensler College and Career Academy.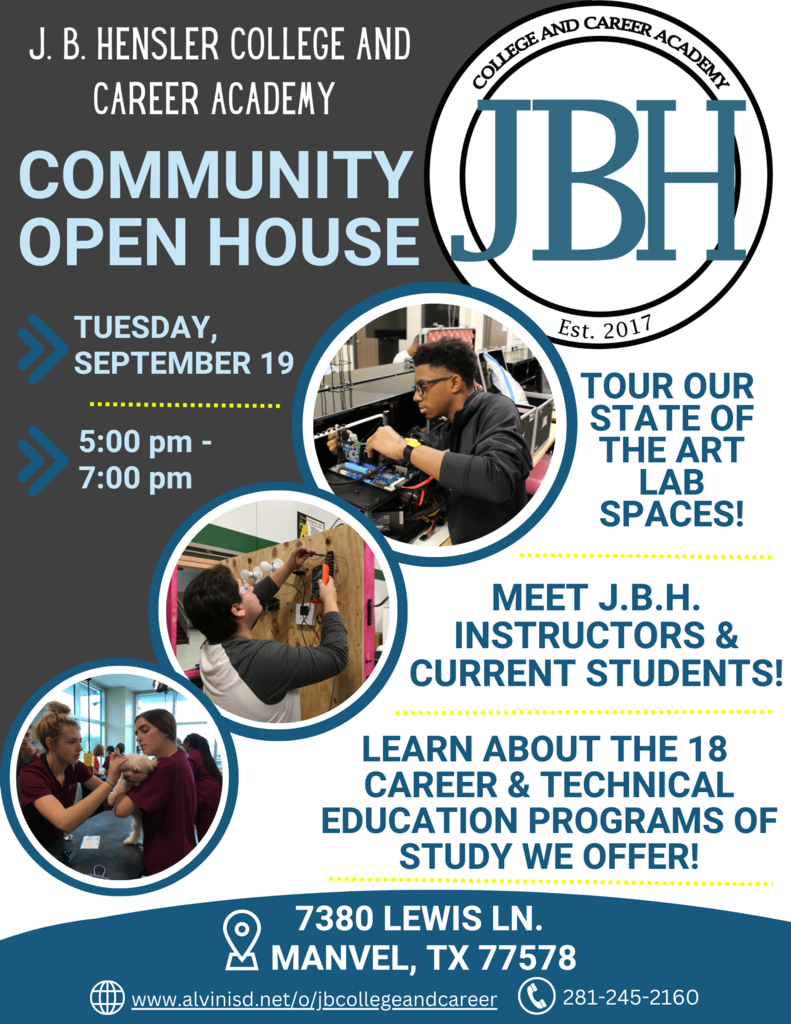 🚌 Let Alvin ISD help you in your drive for your future - join the AISD Transportation Department! No experience is needed and we offer paid CDL training starting at $20.50/hour! Find our more and apply at
www.alvinisd.net/careers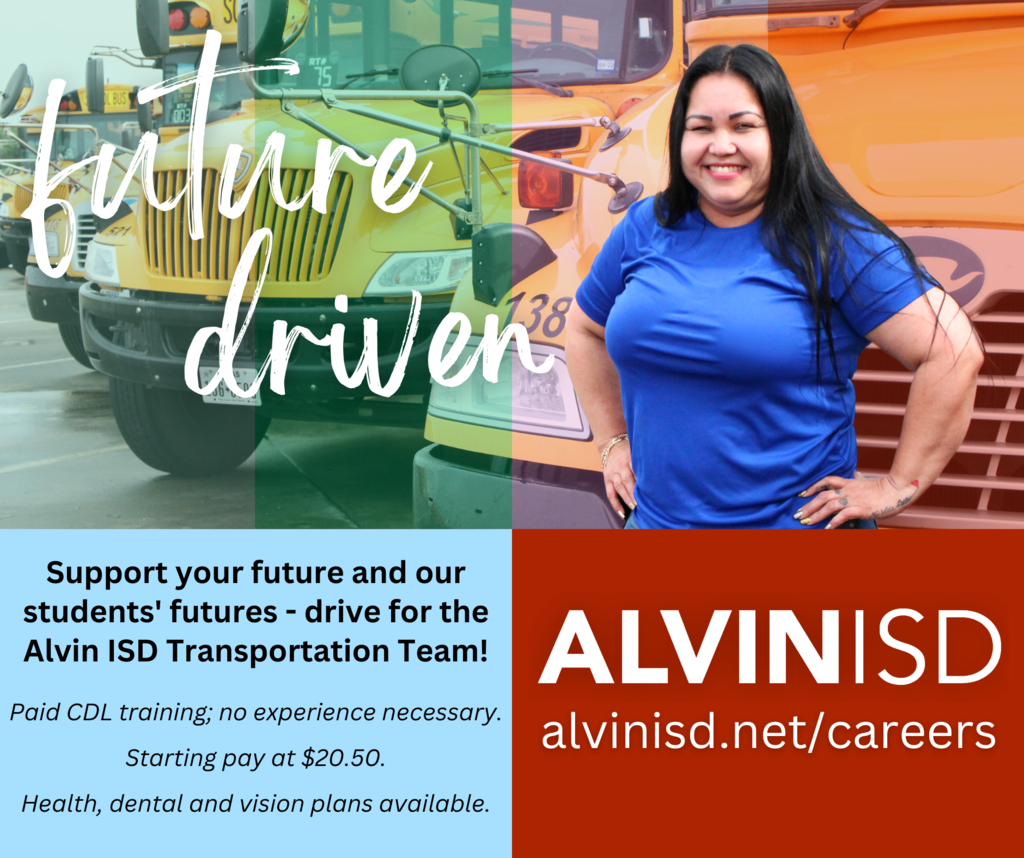 Alvin ISD wishes you a happy Labor Day!